The University of Amsterdam today launched a lab where talented students together with public interest partners can work on new policies in the field of information law. The initiative, the Information Law and Policy Lab (ILP Lab), starts with two projects: the liability of online platforms and the consequences of new copyright rules for the freedom of journalists online.
The European Commission is currently researching whether internet platforms should be held liable for information published on their platforms by their users. One group of students is working on a policy proposal which answers this question. The ILP Lab performs this project together with Bits of Freedom. The other group investigates how journalists should deal with new European rules about the re-use of news or, short fragments thereof, online. The ILP Lab does this research together with the Dutch federation of Journalists (NVJ).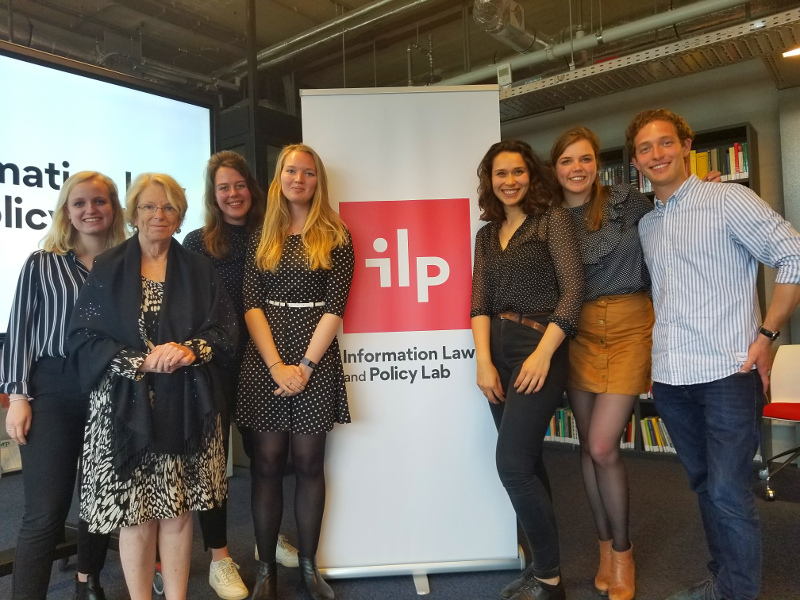 The ILP Lab is founded because it is becoming increasingly important for law students to gain practical experience during their studies. At the same time, the ILP Lab provides an opportunity to translate academic insights into practical policy solutions.
The ILP Lab is an initiative of the Institute for Information Law of the University of Amsterdam. It is the first of its kind in Europe. The Lab has been made possible by a donation by Pamela Samuelson and Bob Glushko, both from the University of California, Berkeley. The Amsterdam University Fund has facilitated the receipt of the donation. Stef van Gompel and Ot van Daalen jointly direct the Lab. The ILP Lab was launched officially today at a festive opening where Marietje Schaake, MEP, was one of the speakers.